Equine Simulators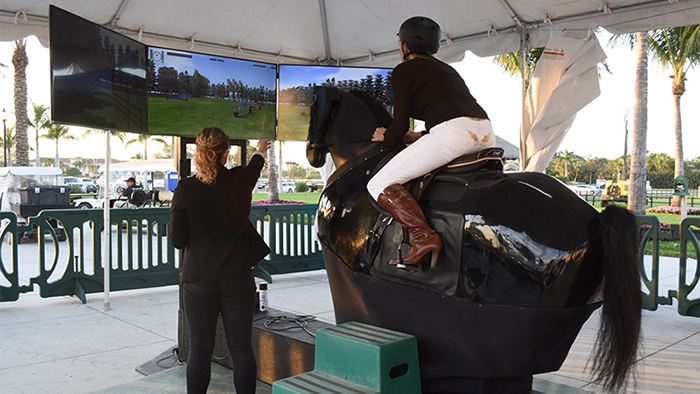 The Equine Simulator is a mechanical device that imitates natural equine movement and physical responses to mounted riders. The simulators serve as a one-of-a-kind opportunity for equestrian enthusiasts to fine-tune their skills, as well as provide a platform for individuals who have never ridden a horse to begin their riding careers in a safe and controlled environment.
Three interactive screens surround the simulator, creating an immersive atmosphere for individuals. A certified instructor is always on hand to perfect seat position, leg stability, and connection to the bit.
The simulators, now located at PBIEC, offer educational opportunities in the three Olympic disciplines of dressage, show jumping, and eventing, while a specific polo-focused simulator is also available to perfect the skills needed to be successful on the field. Ask-Upmark, the full-time trainer for the simulators, offers show jumping, cross country, and dressage sessions for competitive and aspiring equestrians who are interested in improving their riding skills from beginner to FEI, while polo players can also reserve time to practice their hand-eye coordination, as well as near-side and off-side shots.
For more information on lessons and training opportunities on the Equine Simulators at PBIEC for the remainder of the month. To inquire about lessons and instruction with Barbro Ask-Upmark please click here or call (831) 596-4999. For more information about Palm Beach International Equestrian Center please visit www.pbiec.com.